Margaritaville Key West--Tourist MANDATORY Bar



Yeah, yeah, I know.  No need to start singing the song when you ask a local where Margaritaville is. 

YOU go waste away
in there, go get your t-shirt
and Cheeseburger in Paradise.

I'll be down the street with the

other

locals...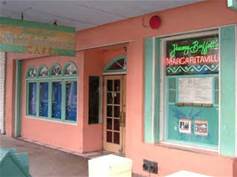 Wanna "Waste away again"? Be my guest.

---

...But YOU go to Margaritaville Key West!
No, really.  Definitely go to Margaritaville Key West.  It's a Key West institution--you have to go.  If you're a fan.
Opened in 1987, and the first of what has become a HUGE empire of restaurants, casinos, resorts and merchandise, again, the place is a Key West institution.  Usually busy, they have live music almost daily, and are open daily (although they close at Midnight--early for Key West).  Known for it's (wait for it) Margaritas, as well as for it's (here it comes) Cheeseburger in Paradise, what really  makes the place popular is it's former owner, James William Buffett.
Born in 1946 in Mississippi, Jimmy Buffett started out as a country singer in Nashville in the late 60's.  He did a lot of busking there (street performing) before coming down to Key West  with fellow Country Singer Jerry Jeff Walker in 1971.   After falling in love with it (as all of us transplants have), he decided to stay, and basically invents the  "Trop (tropical) Rock" genre.
And what is Trop Rock, you ask?  Trop Rock is exactly what you get when a White male Country Music singer goes to the Caribbean and smokes too many joints.
It was Buffett's 1977  album Changes in Latitudes, Changes in Attitudes that "Margaritaville" was on.  And Key West has never been the same. Jeez.
I shouldn't say that.  I actually liked the song--THE FIRST TEN THOUSAND TIMES I HEARD IT.  And as you can imagine, it is EVERYWHERE down here.  I actually play the Trop Rock genre at the Conch Shack where I work, because that's what tourist, especially the cruise ship crowd, expect to a certain extent.  And there's nothing wrong with that, because this is a tourist town, right?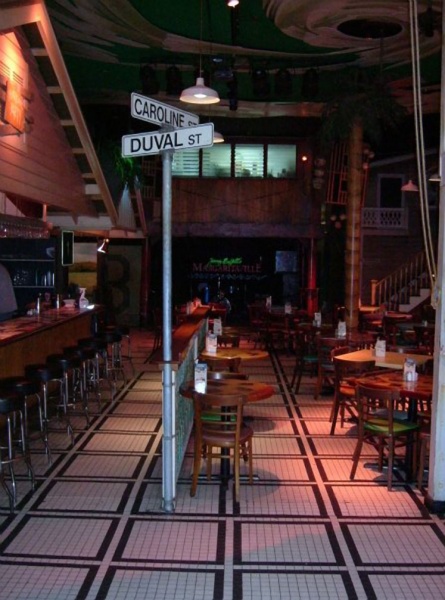 The Margaritaville Key West interior.  A little "touristy" for me, but it wasn't built for us locals, now was it?
---

Buffett Blows Up
Anyway, the song was HUGE, and made Buffett big-time.  He developed a following of die-hard fans, mainly middle-aged white folk who pined for the island life while chained to their boring lives back on the mainland, which are called "Parrot Heads".  Not unlike "Dead Heads", (the Grateful Dead fans that follow them around the world), Buffett's fans are just as rabid, and it was on them that he started his empire.  Note that the Margaritaville Retail Store opened in 1985, two years before the restaurant did. 
And shoot, good for HIM!  From Nashville Busker to a net worth of over 600 million (as of 2018) ain't easy to do!  Heard he was a cheap prick when he lived here full-time, though, but an over half-billion-dollar  net worth will make a lot of people you used to know envious.  Very envious.  And although a lot of people who knew him down here have the same response when his name is mentioned, I take it with a grain of salt.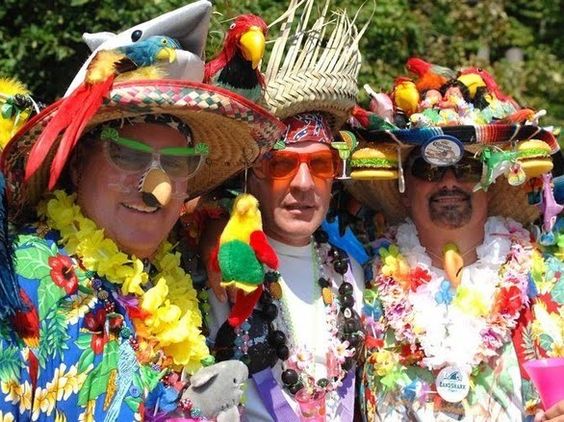 Parrot Heads in full regalia.

---

The Parrot Heads & Issues With Margaritaville Key West
And the Parrot Heads have just as bad of a reputation.  There's an annual Parrot Heads Convention at the beginning of November (right after Fantasy Fest, our Mardi Gras), and let me tell you, they're known as one of the cheapest of the large annual groups that we get down here.  For example, I know this hot bartender (and when I say hot, I mean like no exaggeration, 10 out of 10 hot) that worked at one of the big bashes they throw every year. I asked how the Parrot Heads were treating her, and she said "I now have claw-marks on my bar from them snatching their change back!"  ROTF!!!
Now, I have to admit, out of the "Big Three" Bars in Key West (Sloppy Joe's, Hog's Breath and Margaritaville Key West), I'm... conflicted... with this one the most.  I mean, I'm a "Dive Bar" kind of guy, and out of the three, this one seems the most "commercial", devoid of any real personality.  I know locals who have been down here since it opened and have never stepped foot in it!  It's been there over three decades (at least I think it's been in the same location), yet it doesn't look, or more importantly feel that old.  It's like a T.G.I. Friday's with an island theme, and it's in a storefront!  Very anticlimactic to see the exterior.
And as for the food and drink? Meh.  Ranked in the bottom half on Trip Advisor (last time I looked), it has mixed reviews.  Many people consider the cheeseburgers at the Conch Shack where I work at better for damn-near half the price!  And if a place is named after a specific item on the menu, that item had better be damn good.  That being said, the best margarita I've ever had in Key West was not at Margaritaville Key West.
But so what?  It's MARGARITAVILLE KEY WEST!  Not just any one (there's a LOT of them now), but the original!  And if you're a Buffett fan, it's a freakin' Pilgrimage!
GO!!!
And please, always, ALWAYS, ALWAYS leave a comment, good or bad, with me.  How else am I gonna know if I'm wrong about something, or if things have changed?  Hit me up on Facebook, Twitter, or on my contact me page.
And of course, have fun--it ain't hard!
Margaritaville Café, 500 Duval St., Key West, FL 33040  (305) 292-1435  www.margaritavillekeywest.com
---