Shop For A Key West T Shirt and Gift Like A LOCAL
If I have mixed feelings about anything in Key West Florida and the Florida Keys, it's these--the infamous Key West t shirt  and Key West gift shops.  Many a story, and a lot of them not good, have been written on the subject.
You decide for yourself. Read this, and shop wisely...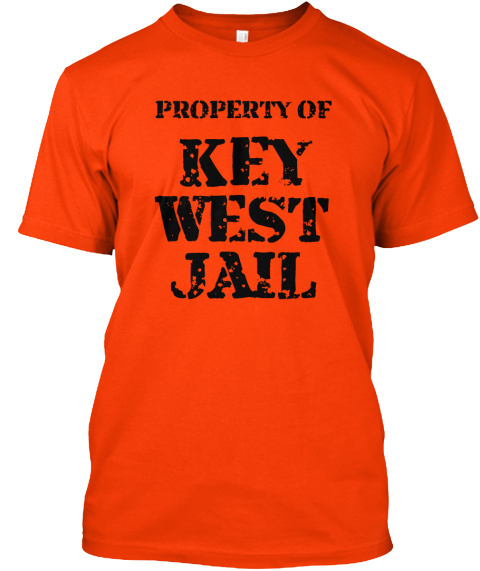 A little something I came up with (after wearing the real one). You can shop at the Freshwater Dave Key West Store by clicking here.

---

In a Tourist Town, Can't Live With
Them, Can't Live
Without
Them...
One thing's for sure--as long as there have been tourist towns, the t shirt and gift shops that go along with them have been the bane of the town's existence.
But, of course, it depends on who you talk to.  Some will say that the Key West t shirt shop and gift shop are a necessary evil, you just have to ask yourself if those are the same people that actually own the place, because it probably is. For everyone else, visions of the town up in arms with torches and pitchforks, coming to burn the place to the ground comes to mind.
Because, for the longest time, they didn't have the best of reputations.  There's actually a Key West Rip-Off Rapid Response Team to help Consumers receive refunds in some cases! Search the internet and you'll find plenty of stories of tourists being parted from their money, whether it's in a Key West t shirt shop, Key West gift shop, cosmetics store, rental agency, etc.
And to be fair, I've seen some pretty stupid complaints lodged against some of these stores.  One woman, for instance, was upset because the store she purchased an item from was closed when she went back for a refund--at two in the morning.  Isn't everything open 24/7 in Key West Florida, she asked?  Another woman called 911 when she did not receive a refund because her child's henna tattoo smeared at some point before drying.  My favorite is always (because it happens quite a bit) the "Gentleman" in the Gentleman's Club who complains that he didn't receive what he thought he was supposed to "After I gave her all that money"?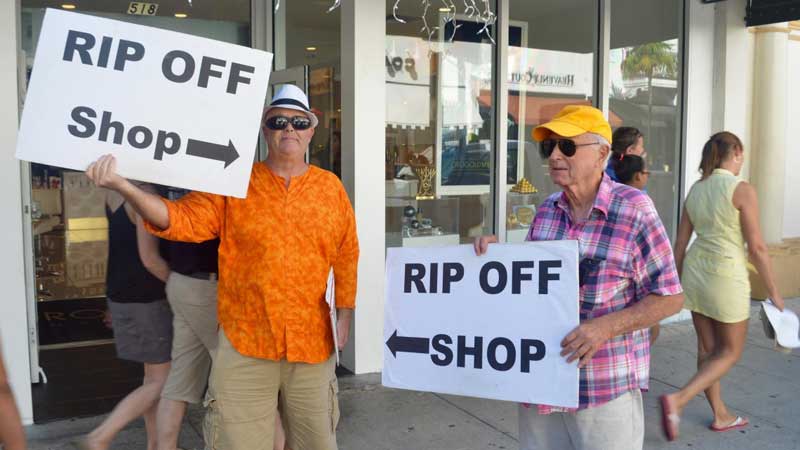 Sometimes, you rip off the wrong dudes...

---

Here's A Novel Idea: Be
Careful Shopping
ANYWHERE!
How's that sound?  I don't know if it's because I'm from New York or what, but I don't trust anyone that I don't know, much less people in a tourist town trying to sell me something.  It amazes me how many people come up to me while I'm at work at the Conch Shack and ask "Is the food any good?"  You do realize that I'm the one selling it to you, right (although one of the cool things about Key West Florida and the Florida Keys is that the locals love to tell people where to go for good food, me included, but that's not the point)?
Listen, it's a good idea period to be careful when shopping in a tourist town, wherever you are.  Use a credit card, not a debit card, when on vacation (because it's credit, not your money that has to be replaced if there's an issue), and be sure to check your card statements after every trip away from home. I only use bank ATM's, too (although those card "skimmers" that steal your personal info have been known to be attached to legitimate bank ATMs as well).
Now,  all that being said, the Key West t shirt and gift shops have some cool stuff in them, if you take your time and go to the right ones. Be wary of anyone holding a "EVERYTHING IN STORE FIVE DOLLARS" sign in front of the store, vying for your attention as you walk by.  They don't do that as much as they used to, but it always bothered me that I couldn't walk down the damned street without being pestered to buy something! Not cool, in Key West or anywhere else.
Also, consider this: is it by a local? I mean, a Key West t shirt may not be hand-made, but is the person you're talking to someone who loves the island?  Who you wouldn't mind supporting by buying their  items? Who adds to the character of Key West Florida and the Florida Keys with what they are doing, and not just here to exploit the tourists and give the place a bad name?
That is who we, as an island, would like for you to support.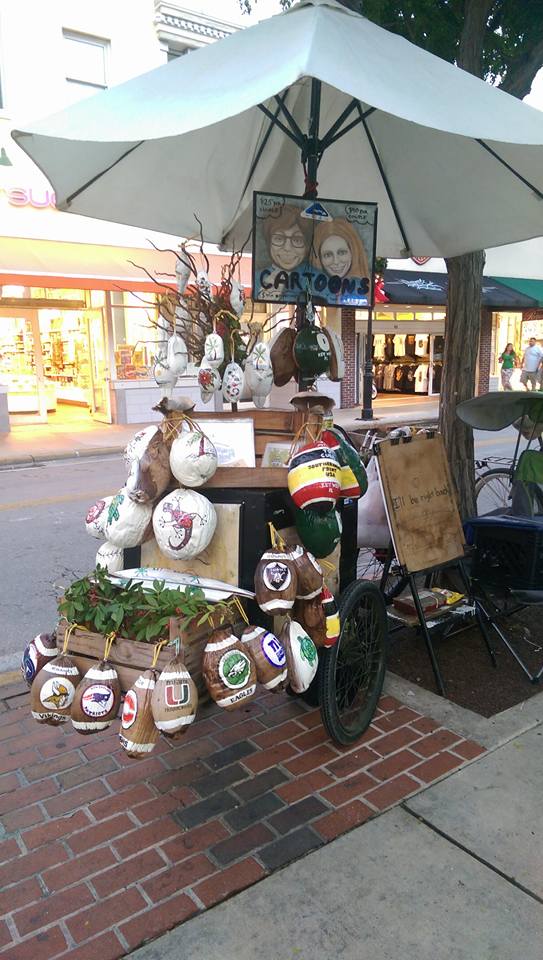 When we say support local artists, Lael's Art Cart is an example of what we mean.  And thanks.

---

'Cause Local Artists RULE!
We're kind of big on supporting the locals whenever possible, Key West Florida being a former artist colony. It still is, to an extent, but not in the same care-free, bohemian manner that it used to be.  It's so expensive to live here now, as opposed to the 60's and 70's, when it was a lot more like the Jimmy Buffett song "Margaritaville", that one can't help but to make profit of some sort an important and integral aspect of their existence here.  The main reason, in my opinion, that you see so many commercial establishments on the main drag, Duval Street, is that they can afford the rent!
So please, take this into consideration when shopping for a Key West t shirt or Key West Gift (or anywhere in the Florida Keys, for that matter)!

---

Whatever You Do...

Please, always, ALWAYS, ALWAYS leave a comment, good or bad, with me.  How else am I gonna know if I'm wrong about something, or if things have changed?  Hit me up on Facebook, Twitter, or on my contact me page.
Have fun--it ain't hard!
---