Do A Key West Glass Bottom Boat Like A LOCAL

As far as Key West things to do, this is a classic.  Locals love to do this when they have friends in town, especially children.

Year-round, daytime or for sunset, I recommend this, for sure.



Oh yeah, this is one of the classic Key West things to do.

---

Not Hard to Figure Out Why This
Should Be On Your T
o Do

List!



Out of all of the Key West things to do, I like the Key West Glass Bottom Boat a lot because you can kill more than two birds with one stone! You can go in the daytime, or as a sunset trip, you can sit outside and catch some rays and the sights, or inside in air-conditioned comfort.  doesn't matter it it's raining, or not. 

And there's the private option--charter a smaller glass bottom boat all to yourselves, just you and friends/family, with the option of entering the water, and it's not as expensive as you think!

It's also year-round.  Although there may be less visibility in the winter, with the wind churning up the water, this is great to do any time of year.  It's the reef itself that prevents the huge waves from coming in (which is why there's no surfing in the Florida Keys), so visibility is usually good throughout the entire island chain.  The boat will almost always go out to the reef, 'cause that's where the "action" is, so to speak, so unless the wave action is really crazy (in which case the boat probably won't go out anyway), they'll be something for you to see.


Winter, spring, summer or fall, the glass bottom boat is a good idea.





Why Should You Use My Recommendations?


For starters, as I explain on my homepage, I began this website because for years I've watched some of these Key West Florida & Florida Keys companies, and some of the people that work for them, say and do some absolutely atrocious shit.  Remember, most of the people you see in those "Information" Booths, and some on the phones when you call a company work on a commission-only basis with no salary, and are apt to say anything to you to get you "off the fence" if you're being indecisive.

I'm not saying all of them do this, of course.


But if you suspect that someone got over on you in any way during your trip to Key West Florida and the Florida Keys, it takes away from your impression of what the Keys are:

Cool, laid-back, and legit. Real. Honest.

And that really pisses me OFF.

Secondly, I give a portion of all profits to local charities, because I feel that it's the right thing to do.  As a big believer in karma, living in Key West Florida and the Florida Keys is ridiculously expensive, and there are folks here that can really use some help.

I mean, even if you have very little, there's always people that are doing worse than you, right?

Also keep in mind that the prices I get for you are highly competitive, maybe even the cheapest, because I bring some of these companies a fair amount of business.  I'm not gonna get rich doing this, but it helps me to eat/drink/ride/get in for free a lot of the places I go, so it doesn't suck to be me! ;-)


So if you understand and believe in what I'm doing, I hope that you'll book through Freshwater Dave Key West, 'cause I'm trying to look out for you and our island's reputation.

And make some beer money (hey, I'm being honest!).

If not, I'm sorry to hear that, but either way, I hope you have a great time visiting Key West Florida and the Florida Keys!

(Oh, and if you could please "like" and "follow" Freshwater Dave Key West on Facebook and Twitter, and leave a comment below, that'd be cool, too!)

How often does something like this happen in your life (although this wasn't in Key West)?

---

Make Sure Your Devices Have Enough Power...

...'cause you're gonna be taking a boatload (see what I did there?) of pictures and videos!
You'll most likely be taken out to the Great Florida Reef (depending on the weather conditions and time of year), the only living coral barrier reef in the continental United States, and the third largest in the world.  It's about seven miles off of Key West, and it mainly runs the length of the Florida Keys, 170 miles, or so. Depth varies from only 15 to 30 feet, which can make for some excellent viewing on a glass bottom boat!
Most of the reef is part of the Florida Keys National Marine Sanctuary, and almost 1400 species of marine plants and animals live on the reef.  It's considered one of the most biologically diverse marine eco systems in the world.
In other words, can you think of a better time to go on a Key West glass bottom boat?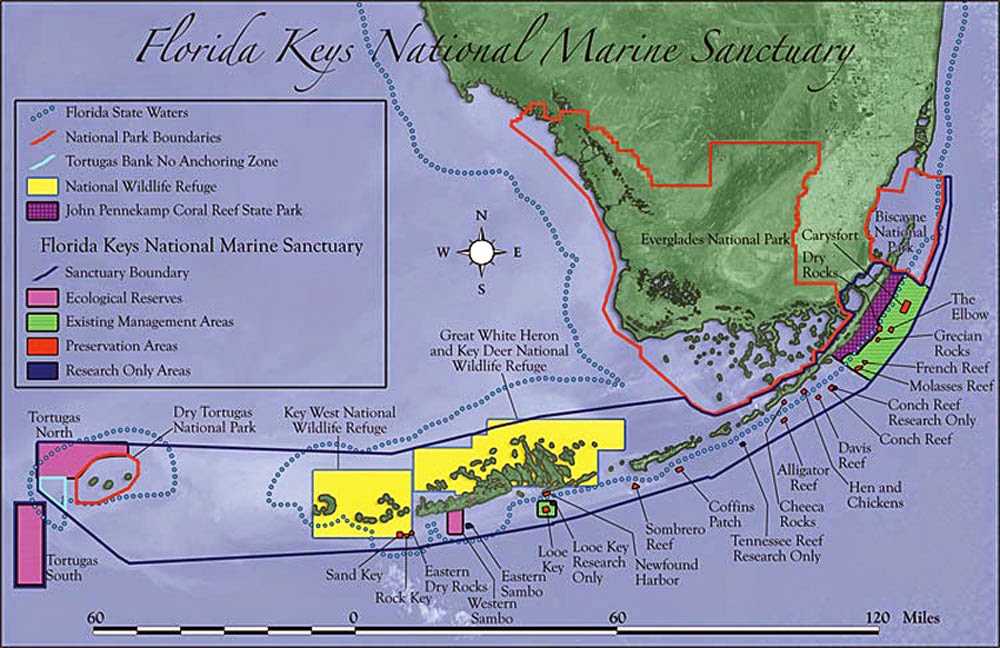 First yellow block on the left is where you'll be going  out to on a Key West glass bottom boat.

---

Your Key West Glass Bottom Boat Options: Big Boat, or By Yourselves?
So, the question now is, private or public? Both are cool, but like the Key West sunset sail option, do you want to be by yourself, or do you mind going out with a crowd?  Either is fine, and you don't have to worry about having a good time, because the boats that I recommend have been doing this in the Keys for quite some time, and they know what they're doing.   The choice is yours.

"Party" Glass Bottom Boat

Generally less expensive

Larger boat, meet new people

Snacks, drinks included (can bring you own)

Air-conditioned interior, indoor/outdoor option

Restrooms(!)



Private Glass Bottom Boat

Can be more expensive

Small boat, have it to yourselves

Bring your own drinks, food

Swim/snorkel option, or stay dry

Personalized trip



---

Whatever You Do...

Please, always, ALWAYS, ALWAYS leave a comment, good or bad, with me.  How else am I gonna know if I'm wrong about something, or if things have changed?  Hit me up on Facebook, Twitter, or on my contact me page.
Have fun--it ain't hard!

---