Key West Bars You
MUST

Hit





Here's 

the

short list

of Bars that you have to
check out while in town.  There's a shitload of bars in
Key West (there's about 360 liquor licenses on a 4x2 island!),
so allow me to put my almost 20 years of getting HAMMERED
in them to work for you!



Smallest Bar, Key West.  Shoehorn yourself and your friends up in there, and take a pic!
---

Key West Bars--My Favorite Subject

Okay, Let me tell you about the bars in Key West...
Almost 20 years in Key West, Florida and I've probably spent half of them have been in these joints. Remember Norm from "Cheers"?  That was me, at one point.  I could walk into too many bars, and they'd be like DAAAAVE!!!  Man, have I got some stories!  So when I say I know about the bars in Key West, I'm not kidding.
Put the French Quarter on an island damn near in the Caribbean, let them party 'till they can't see straight, actually clean the place up between 4-7 am, then do it all over again.  And by again, I mean some of the bars  open at 7 in the morning, and have "Breakfast" Clubs.  Really.  And yes, the bars are open on Sundays.
Now, don't get me wrong--there's other stuff to do down here. Lots of stuff. Key West is also known for it's art culture, for instance.  But Jimmy Buffett's signature song isn't about a painting, is it?
And it's not necessarily rowdy, or anything, I mean, ALL drinking towns have their share of drunken, loud, staggering fools, right? But make no mistake, this is a drinking town.
Now, if you've got a problem with that, this may not be a town that you should visit.
But if you don't have a problem with that, tap/click on a heading below:
---
---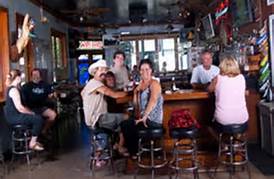 ---
So WHICH are the "Best" Key West Bars?  Depends on who you ask...
Man, that is HIGHLY debatable. In my opinion, there is no one answer.
Question is, what are you looking for? Kick-ass music?  The Green Parrot on the weekends (weekday nights are cool too, but quieter).  Serious drink-pounding, while being entertained by some smart-ass guitar player?  Irish Kevin's.  Don't have much time, and you're thinking "I must go to the 'signature' Key West Bar"? Sloppy Joe's.
See? It depends.
That's why I came up with these lists of Key West Bars.  Don't have time to hit them all?  Start with "Tourist MANDATORY", 'cause, you know, they say you have to, right?  Not into "Tourist Traps"? Check out "Respected By Locals".  They'll probably be loud and busy (depending on what time of year it is), but hey, It's a DRINKING town, remember?  Mix in some "Local Dives" too, if you can, and meet some of the knuckleheads I call friends.
And please, always, ALWAYS, ALWAYS leave a comment, good or bad, with me.  How else am I gonna know if I'm wrong about something, or if things have changed?  Hit me up on Facebook, Twitter, or on my contact me page.
And remember to tell 'em, "Freshwater Dave sent us!"
Have fun--it ain't hard! 
---