Bars In Key West RESPECTED BY LOCALS

These ARE

the bars you should go to if you

don't

want to go "Full-On" Tourist.

  Sure, you should go to the "Big Three" Key West Bars, but what if you don't like "Touristy" bars?





Then read on.  You'll have a good time...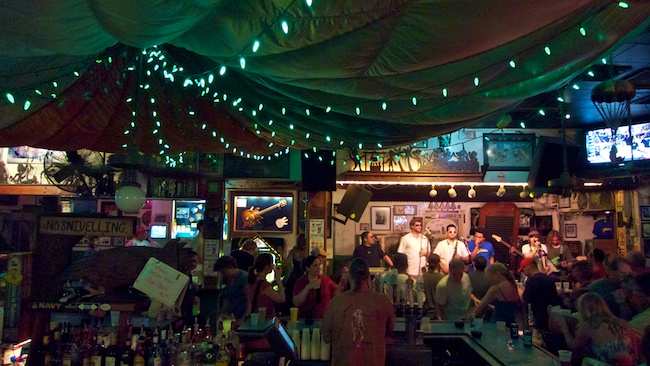 Inside the Green Parrot Key West.  As far as bars in Key West respected by locals go, this is it.

---
Tourists AND Locals Make For
 A Legit Bar 
It's true.  You're in a strange city, and you want to go to the bars that the city is known for, but the last thing that you want to do is go to where all of the tourists go.  So what do you do?  You ask the opinion of someone who lives there, right?  A local.
Well, I've been kicked out of most of these bars at some point, so you've come to the right place.
Captain Tony's Saloon.  The Green Parrot.  The Schooner Wharf Bar.  They've all been around for years, they all have a massive local following, and this is just the tip of the iceberg.
Dante's.  The Flying Monkey Bar at Fogarty's. The Dock Bar at Hurricane Hole.  The Whistle Bar.  Virgilio's.  Are you paying attention?   
These bars in Key West are respected by locals, in my opinion,  because some of us feel that if the bar is LEGITIMATALLY cool it doesn't matter whether tourists are there, or not.  It's that simple.  And I KNOW I'm gonna catch hell from some locals, but fuck it.  It's the truth.  It doesn't matter whether you're a tourist or nor, it matters whether you're an ASSHOLE or not.
---
Dante's Key West.  A bar with a POOL?  Are you kidding me?  Perfect for Key West!


The Best Of Both Worlds

Key West is about having a good time, period, don't you agree?  Exactly.  Party with whoever.  "One Human Family" is the motto of Key West, but some of us locals would include "As long as there's no tourists".  After working with "Tourons" all day, I feel that way sometimes, to be honest.  A lot of the native-born (called "Conchs") seem to be bitter that all of these idiots have taken over the island, and to a certain extent I can't blame them.  What I also find interesting is that it's these same Conchs that didn't "get in" on the tourism boom, so to speak.  Either way, tourism is here to stay, so get over it. We have the best of BOTH worlds, tourist and local alike.

---
Bottom Line--Bars in Key West Respected By Locals HAVE Tourists 

But you already knew that, didn't you?  I know you did--my bad.  I just get pissed at people who move down here, and suddenly find tourists a problem.  Sorry.  Back to the subject matter...
You should have a good time at any of the bars in Key West respected-by-locals.  Again, they're not really "touristy", but this being a tourist town, they'll probably be crowded.  Keep in mind that they don't always have live music, but they'll either have background music and/or a jukebox.  All are open by 11 am, have a Happy Hour or drink special of some sort, and stay open late, especially if located downtown.
Click/tap on an individual bar name above for more details.
And don't forget to tell 'em "Freshwater Dave sent us!!!"
And please, always, ALWAYS, ALWAYS leave a comment, good or bad, with me.  How else am I gonna know if I'm wrong about something, or if things have changed?  Hit me up on Facebook, Twitter, or on my contact me page.
Have fun--it ain't hard!
---