Do Key West Jet Ski, Tours Or Rentals, Like A LOCAL


This is some of the most fun you can have on the water in Key West Florida and the Florida Keys,
no doubt
. Know what can make it even MORE fun? Doing it with the right company, and
that's
what I'm here for.

This done right will be one of the highlights of your trip, and I'll help make sure of it.
90 minutes + of haulin' ass, and takin' (in) views. 

---

To Tour, or to Rent A Key West Jet Ski: You Could Have Worse Problems!
The question is, how much time do you have?
 As far as a Key West Jet Ski rental, people usually rent for an hour, and you can have a whole lot of fun in an hour. Depending on what company you rent with, and for how long, they may even let you take it out of sight of the rental area (important).  
But if you have more time (and money) to spare, why not do a tour, of the entire island, by water? That's what a Key West Jet Ski Tour will involve: Almost two hours (90-120 mins., depending on the company) on our beautiful waters, some cool facts about the keys, and maybe even a dolphin or sea turtle!
There's always something to see, as our waters are as interesting as the people that inhabit the Keys themselves.  Isn't it time for you to get out there, and experience it?

Why Should You Use My Recommendations?

For starters, as I explain on my homepage, I began this website because for years I've watched some of these Key West Florida & Florida Keys companies, and some of the people that work for them, say and do some absolutely atrocious shit.  Remember, most of the people you see in those "Information" Booths, and some on the phones when you call a company work on a commission-only basis with no salary, and are apt to say anything to you to get you "off the fence" if you're being indecisive.
I'm not saying all of them do this, of course.

But if you suspect that someone got over on you in any way during your trip to Key West Florida and the Florida Keys, it takes away from your impression of what the Keys are:
Cool, laid-back, and legit. Real. Honest.
And that really pisses me OFF.
Secondly, I give a portion of all profits to local charities, because I feel that it's the right thing to do.  As a big believer in karma, living in Key West Florida and the Florida Keys is ridiculously expensive, and there are folks here that can really use some help.
I mean, even if you have very little, there's always people that are doing worse than you, right?
Also keep in mind that the prices I get for you are highly competitive, maybe even the cheapest, because I bring some of these companies a fair amount of business.  I'm not gonna get rich doing this, but it helps me to eat/drink/ride/get in for free a lot of the places I go, so it doesn't suck to be me! ;-)

So if you understand and believe in what I'm doing, I hope that you'll book through Freshwater Dave Key West, 'cause I'm trying to look out for you and our island's reputation.
And make some beer money (hey, I'm being honest!).
If not, I'm sorry to hear that, but either way, I hope you have a great time visiting Key West Florida and the Florida Keys!
(Oh, and if you could please "like" and "follow" Freshwater Dave Key West on Facebook and Twitter, and leave a comment below, that'd be cool, too!)

Yeah, no.  Not that kind of jet ski.

---

Tour vs. Rental

Now, I've done both, and there's one big difference between a tour versus a rental: almost all rentals restrict how far away you can go from the rental area. It's still fun, but don't think they're going to give you a jet ski and be like "Go anywhere you want, see you later!", 'cause that ain't how it works! You will be given boundaries that you must stay within (usually where they can "keep an eye on you"), and if you leave the area, you can forfeit your remaining time.
A tour is relaxed, but exciting, like speeding down a country road in a sports car taking in the views.   You'll stop at different points of interest, where the Guide will point out all kinds of interesting stuff. Oh, and if you happen to have one of those Go-Pro cameras, now is a good time to break it out!
Another difference is price.  A two-hour tour is going to cost more than riding around in one area, unsupervised.  If you're short on cash or time the rental is for you, but if you have the time and want an experience you'll remember, do the Key West Jet Ski Tour with the company I'm currently recommending.
Either way, I think you'll have a good time!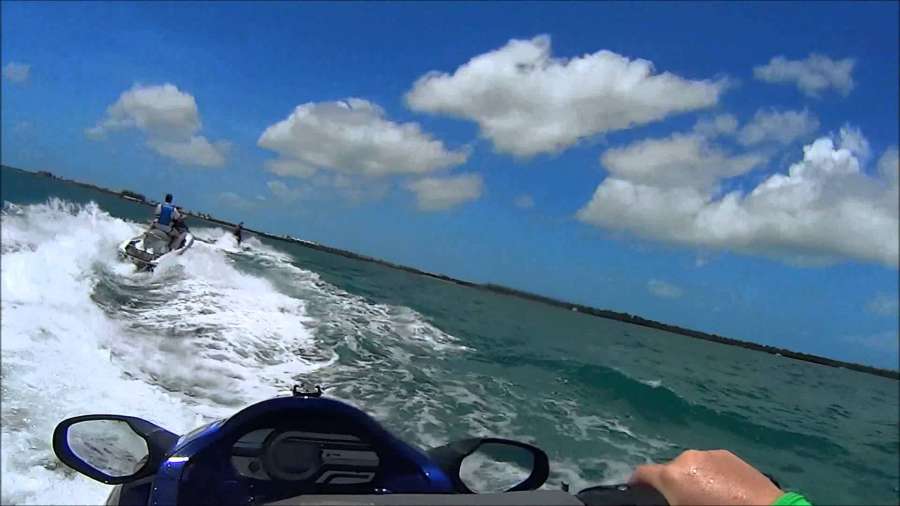 Key West jet ski tour, Dude's-eye view.

---

You're on an Island--
You Gotta Do This!

Would you go to Busch Gardens or Six Flags, and not go on the rides? Or go to Las Vegas, and not gamble?
Listen, being on the water in the Florida Keys is just as important.  C'mon--you're on a chain of islands!  It's part of the experience!  A mandatory one, in my opinion, and what better setting than a beautiful, tropical one?
You know you want to do it!  Click/tap below, and let's get you started!

---

Things You Should Know

Operators MUST complete a Boater's Safety Test if born on or after  January 1, 1988 (if you do not have a Florida Boater's Safety License), and must be 18 or older to ride alone.  You can take the test here,

or arrive early and take the written test at the jet ski company



You MUST have a valid government-issued photo I.D. (riders 16 and older) that shows date of birth
The above is mandatory state law, which is why there are NO EXCEPTIONS

MORE INFO


---

Whatever You Do...

Please, always, ALWAYS, ALWAYS leave a comment, good or bad, with me.  How else am I gonna know if I'm wrong about something, or if things have changed?  Hit me up on Facebook, Twitter, or on my contact me page.
Have fun--it ain't hard!
---