Do a Key West Bike Tour Like a LOCAL

This tour is so much fun, even blind people have done it! No, really! It's immersive--the things you see, hear, taste, touch--you just can't get that riding on anything with a motor.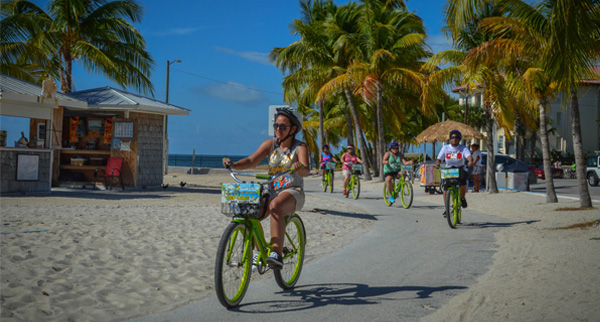 A bike tour meandering by one of our beaches.

---

Different than Riding on
Something with a Motor

And I'm not saying better, either, it's just that a Key West bike tour is more "Stop and smell the roses" as opposed to, say, a Key West trolley tour.  And I mean that literally!  Bike tours will stop and go into detail with you.  You'll experience it with all of your senses, and in my opinion, that's how you do a tour.
And man, are the tours that I recommend an experience!

Why Should You Use My Recommendations?

For starters, as I explain on my homepage, I began this website because for years I've watched some of these Key West Florida & Florida Keys companies, and some of the people that work for them, say and do some absolutely atrocious shit.  Remember, most of the people you see in those "Information" Booths, and some on the phones when you call a company work on a commission-only basis with no salary, and are apt to say anything to you to get you "off the fence" if you're being indecisive.
I'm not saying all of them do this, of course.

But if you suspect that someone got over on you in any way during your trip to Key West Florida and the Florida Keys, it takes away from your impression of what the Keys are:
Cool, laid-back, and legit. Real. Honest.
And that really pisses me OFF.
Secondly, I give a portion of all profits to local charities, because I feel that it's the right thing to do.  As a big believer in karma, living in Key West Florida and the Florida Keys is ridiculously expensive, and there are folks here that can really use some help.
I mean, even if you have very little, there's always people that are doing worse than you, right?
Also keep in mind that the prices I get for you are highly competitive, maybe even the cheapest, because I bring some of these companies a fair amount of business.  I'm not gonna get rich doing this, but it helps me to eat/drink/ride/get in for free a lot of the places I go, so it doesn't suck to be me! ;-)

So if you understand and believe in what I'm doing, I hope that you'll book through Freshwater Dave Key West, 'cause I'm trying to look out for you and our island's reputation.
And make some beer money (hey, I'm being honest!).
If not, I'm sorry to hear that, but either way, I hope you have a great time visiting Key West Florida and the Florida Keys!
(Oh, and if you could please "like" and "follow" Freshwater Dave Key West on Facebook and Twitter, and leave a comment below, that'd be cool, too!)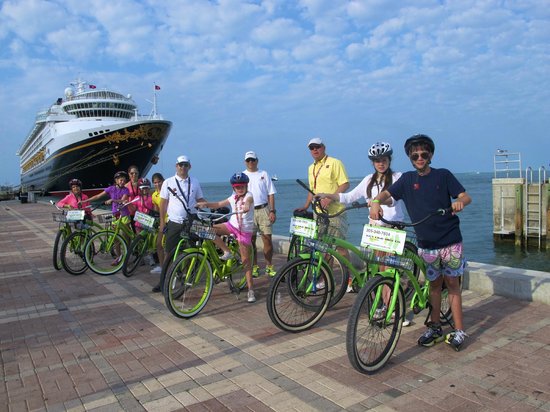 Kids love bike tours.  Which is good, since I don't recommend bringing them into a bar.

---

Even the Blind Will Love
a Key West Bike Tour

I wasn't kidding earlier, a blind woman did go on a bike tour, and said it was one of the greatest experiences of her life!  Sounds like a really cool person, too.
As for the younger and older folks, they can usually be accommodated via a tandem bike, child bike seat, or that funny-looking extension thingy that's attached to an adult bike for the in-between-sized child.
Groups? No problem.  The bike tours that I recommend can accommodate groups large or small.  Bachelorette parties, corporate groups, families--if you like, you can "charter" your own private tour!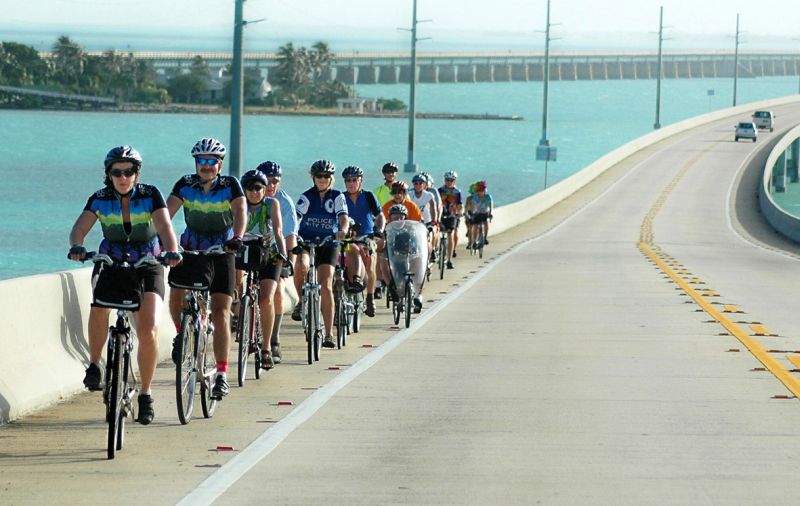 If the Key West bike tour isn't enough for you, a two-day, Florida Keys bike tour may be just the thing.

---

For Biking Bad-Asses, a Tour of the
Entire Florida Keys
For a serious bike tour, how about a one or two-day ride covering the entire 100+ miles of the Florida Keys?  You'll start at the top of the Keys, in Key Largo, and ride to the halfway point in Marathon (stopping for drinks, lunch, and some sightseeing along the way), where you'll check into your hotel, relax and have a sunset dinner.  You'll finish the trip on day two, of course stopping for lunch and drinks and some more sightseeing, ending up at the Southernmost Point monument. There's a van for emergencies, so don't worry.
The one-day tour, known a the "Century Ride", is for the hard-core, 'cause, you know, riding a bicycle 100 miles in one day is no joke.  Only the serious need apply.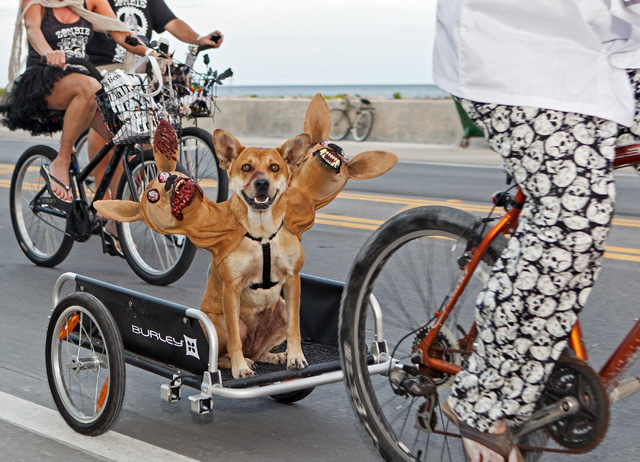 During the annual Zombie Bike Ride in October.  As fun as it sounds.

---

Learn About Our Island
(and get some exercise in while on holiday)

You can kill two birds with one stone on a Key West bike tour:  You'll get a really cool history lesson while burning off some of those mojitos, conch fritters, and key lime pies that you've been chowing down on.
Did you know that Key West once fought to keep slaves from being returned to their masters after their ship wrecked?  That harvesting sponges was once the biggest industry on the island?  That missiles were once set up along the beaches, ready for the start of World War III?
Did you know that this is some of the things you can learn, while stopping to eat a mango that's just been pulled out of a tree?
A leisurely ride on a tropical island, gleaning it's knowledge, and burning calories in the process.  Sounds like a good day to me!
Sounds Like Fun?  It IS!
What better way to justify all of the food and drink you know you'll be eating, than to know you'll burn some of it off and learn something in the process?
Have you convinced yourself yet?  Excellent!  Just click/tap on the button below, and let's get the process started!

RESERVE NOW

---