Hogs Breath Key West--Tourist-MANDATORY Bar 

Is the Hog's Breath a tourist-mandatory bar?  I don't know, is Bud
a tourist-mandatory beer? 

"Of course

it is!" is the

 answer to both questions, and out of the "Big Three" tourist bars in Key West, this one may be the

least touristy. But then again, I've never been there sober.  That I remember.  I think.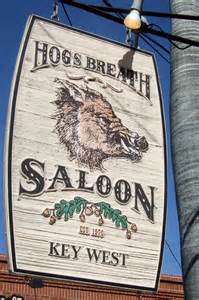 Go ahead and check it out. It's "mandatory, right?


---

The Hogs Breath Key West
is better than WHAT?
"Hog's Breath is better than no breath at all!"  That's got to be the stupidest slogan I've ever heard in my life.  That's like saying "An empty beer can is better than no beer can at all!" WTF are you talking about???
Okay, I got that off my chest.
I like Hogs Breath Key West, and I'm not saying that because I see the General Manager and most of the employees  almost every day.  Out of the "Big Three" tourist bars in Key West, it's the least touristy, and that's saying something.  It's frequented by tourists and locals, and that's really saying something.  It has a great feel to it: partially outdoors (and I don't mean just some tables and chairs), looks like it's been there a while (it has), and it's not HUGE.  They ain't always "packin' 'em in", and I don't think they're necessarily trying to.  Sounds good to me, 'cause I don't think people are trying to sit up in there like sardines.
Started by a dude named Jerry Dorminy from Alabama, this is not the original Hog's Breath.  The original one was started in 1976 in Fort Walton Beach, FL.  Jerry loved sailing and fishing, and wanted a place where he and his friends could hang out after a day on the water.  It became popular with locals, and then the military, who had a training instillation in the area, found out about it.  I'm sure the MP's were called in more than once... 
A tourist bar that doesn't necessarily feel like a tourist bar.  That's what I'm talking about!
---

The "Hog" comes to Town
In 1988, Jerry decided it was time to open another location, and settled on Key West,  which at the time was becoming a hot tourist destination.  Along with the fact that sailing and watersports were important to him, so was partying and the right location for a new bar, and I'm pretty sure he's happy with his decision.  The Merchandise Store ALONE probably makes more than most Third World Countries, and when you throw the bar and food in?  I don't even want to think about it. Good timing, Bro!
Hog's Breath is one of the big-time bars in town, for sure.

---

Welcome to the BIG-TIME!
And BIG-TIME, they are.  Hogs Breath Key West calls itself  "The most popular locals bar on Duval Street" (our main drag), and I believe it.  The Conch Shack, the little burger joint that I work at, is located next to them, and I see a steady stream of locals going in and out.
And they have their annual functions, too.  For over 20 years now they've hosted the Hog Trot 5k Run,  a popular event with some of the proceeds going to the Key West Southernmost Runner's Club.  They used to host the Hair of the Hog Leather and Lace Party, which is, um, just what it sounds like.  It was a 9am-drink-bloody-marys-and-wear-kinky-outfits-while-acting-a-fool-party during  Fantasy Fest, our annual Mardi Gras.  What? You never heard of it?  You don't get out much, do you?
Again, Hogs Breath Key West has live music starting in the early afternoon, sometimes in the morning, and it rolls on 'till 1am.  You'll hear some local acts, and I've seen some pretty good regional bands come through.  Oh, and did I mention Kenny Chesney has been known to stop by for an impromptu jam?  Never seen a bar fill to overflowing so fast!  Guess Hog's Breath got it like that!
But as far as their food?  Um, no, they ain't got it like that.  I'm not saying that they suck, but keep in mind that it's not a restaurant, it's a bar with food.  Bars have food so you can eat something while you're drinking, restaurants have alcohol so you can drink something while you're eating.  Make sense? No?  Then don't worry about it.  That being said, go to Hogs Breath Key West for the libations (the Bloody Mary is like, WOW), and if you're hungry, eat something too.  The Raw Bar is good, and you'll find decent stuff on the menu.
(Hope this doesn't get me the EVIL EYE from the General Manager.  Wonder how long until he finds out I wrote this? Sorry!)
So yeah, if you're in town, and never been there before, go check out Hogs Breath Key West.  At night, they may have a funky blues band, so definitely go if you like that type of stuff.
And remember to tell them "Freshwater Dave sent us!"
And please, always, ALWAYS, ALWAYS leave a comment, good or bad, with me.  How else am I gonna know if I'm wrong about something, or if things have changed?  Hit me up on Facebook, Twitter, or on my contact me page.
And of course, have fun--it ain't hard!
Hog's Breath Saloon, 400 Front St., Key West, FL 33040  (305) 508-4630  www.hogsbreath.com
---