Sloppy Joes Key West--Tourist MANDATORY Bar



This bar is on almost 

EVERY list of bars in Key West to check
out when it comes to Key West Florida.  Not going to Sloppy Joe's is like not going to the Statue of Liberty when you're in
New York City.  Put it on your list, and get it over with.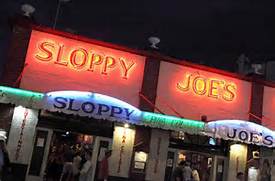 The One, and Only.

---

But do you GOTTA Go To Sloppy Joes Key West?
It's true. Sloppy Joes Key West is the quintessential of Key West Bars, as much as many locals hate to admit it.  If you were to do a web search on the "Bars in Key West" guess who's at or near the top?  Exactly.  One of America's Greatest Writers staggered out of there on a regular basis, and if it wasn't for that, I question whether it would be sitting on the throne the way it is, but that's neither here nor there...
Started (legally) on December 5, 1933--the day after Prohibition ended--by a dude named Joe Russell, where it sits now is not where it originally sat.  It was moved there after the landlord at the pervious location (where Captain Tony's is now) raised the rent by ONE DOLLAR.  Yup, they were like "fuck THAT!", picked everything up and moved it around the corner to it's current location.  The people drinking in the bar even helped!  They didn't even CLOSE!  How cool is THAT?
---
Doesn't take much to flood this end of Duval Street (the main drag), just fifteen minutes to a half-hour of hard rain.  This end of the street is almost at sea level, so locals break out kayaks when it rains like this.  I've even seen a dude catch a fish on Duval St.! Really!


Ernie And Joe

Ernest Hemingway was a fan of the bar from day one.  He even was instrumental in the name change (from The Silver Slipper, and prior to that it was named The Blind Pig.  Apparently, due to them selling liquor and seafood, the floor was always wet, and the customers liked to talk trash to Joe about how sloppy an establishment he ran.  I was surprised to find that out, thinking, of course, that they must've made killer sloppy joe's there, but nope!  Hemmingway and Joe were tight, as besides for owning the bar and being a rumrunner, Joe piloted Hemmingway's boat, the two fished together for over a decade, and he was the inspiration for the character Freddy, the owner of Freddy's Bar and Captain of the Queen Conch in Hemmingway's book "To Have and Have Not". 

---
They're NOT Just Known for Drinking
Sloppy Joes Key West is also known for three annual events:  Around Hemmingway's Birthday every year (July 21st), the bar holds the Hemmingway Look-Alike Contest, which is part of the Hemmingway Days Festival.  It's popular, especially with fans of the author. There's also the Toga Party, part of Fantasy Fest, our Mardi Gras held in late October.  Fantasy Fest? Think a safer, cleaner (and by cleaner, I mean the streets!) version of New Orleans, and people now come from all over the WORLD. Are you a little freaky-deaky? ;-)  And on New Year's Eve, they have the Dropping of the Conch Shell (as opposed to a ball, like in Times Square).  Big fun! 
Open every day (unless a hurricane is coming), Sloppy Joes Key West stays busy as all get-out, especially if a cruise ship or two (or three!) is in town.  As the "premier" bar, everybody and their Momma goes there, so you KNOW it's going to be loud.  Food is hit-or-miss, at best.  They have music every day and night, and sometimes it's really good! Check out my music webpage for more info.
So yeah, Sloppy Joes Key West is a TOURIST-MANDATORY stop on your visit to Key West Florida, and there's nothing wrong with that.  Just make sure it's one of many places you visit down here (you HAVE seen my other web pages on Key West Bars, right?).
And please remember to tell them:  "Freshwater Dave Sent US!!!"
And please, always, ALWAYS, ALWAYS leave a comment, good or bad, with me.  How else am I gonna know if I'm wrong about something, or if things have changed?  Hit me up on Facebook, Twitter, or on my contact me page.
Have fun--it ain't hard!
Sloppy Joe's Key West, 201 Duval St., Key West, FL 33040  (305) 294-5717  www.sloppyjoes.com
---