Do Key West Nightlife Like A LOCAL!

With the reputation that the nightlife in Key West has, you would think that there's a club on every corner, but that's not the case.  You just have to know where

to go.

 



Actually, it's more like you have to know

WHERE  to go
on WHAT

night!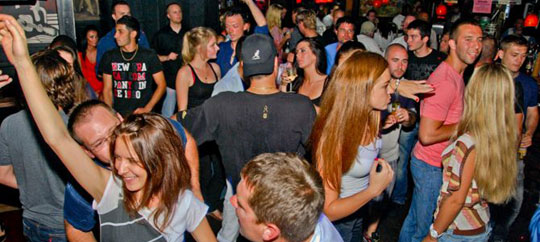 The Bottle Cap at night.  Question is, what night? 
---
Key West Nightlife Isn't About Who You Know...
Key West nightlife is about where and when you know.   Take the Bottle Cap in the picture above. Typically, it's only one night of the week that it looks like that (even better, actually!).  Another good example is Coaster's--It's not even a CLUB!  Hey, wanna wear all black, and pretend you're on South Beach ('cause we don't roll like that down here)?  That only happens at Solo, for the most part, and AGAIN, it's not a club.
See what I mean?  There's many reasons for this, too--let me give you an example:  for years, and at many venues, they've tried to open a Latin Club.  Sounds like a no-brainer, what with the Cuban influence in South Florida, right?  So one would open up, someone would get stabbed (or shot!) up in there, and there goes the club.  Same thing for the Hip-Hop/Rap clubs, too.  EVERY. TIME.  So then a restaurant would try to have a Latin and/or Hip-Hop night... yeah, exactly.  Same thing.  Fuckin' pitiful.  And too bad.
---
A band playing during the annual Poker Run.  Fights, yes.  Stabbings and shootings, not so much.


Not The Case (So Much) With Bands

Now as far as partying somewhere there's a band playing, not so much.  Sloppy Joe's usually has young up-and-coming bands there at night, sometimes a D.J. Same with Durty Harry's, but no D.J. The Green Parrot?  Oh, they get funky up in there!  Hog's Breath will typically have a middle-aged "Biker" crowd, and the nighttime music will usually be Blues, but it can be good, so make sure to stick your head in there and see what's up.  For more on straight-up bands, check out my Key West Bands page ('cause we're kind of going off the subject here--when I think Key West nightlife, I think clubs and dancing).
---
Yeah, I Admit, The Nightlife In Key West Is Limited
So yeah, this DAMN sure ain't Miami, or New York.  Or Austin.  or any big city, where you'll have your choice of genres to listen to, and clubs to check out.  As far as Key West nightlife goes, we got the basics: Cover Bands and DJs, with a couple of eclectic groups thrown in for good measure.  Hell, we're a 2 miles wide by 4 miles long island--what do you want from us?
But a good time can still be had AFTER 11p.m.  Rick's is the "Club" down here.   Lazy Gecko (locals call it the Lazy Ghetto) across the street can be fun, and usually has a DJ weekend nights.  Coaster's is trying to keep the Latin (Friday Night)/Hip-Hop (Saturday Night) thing going, and I wish them luck with that. Virgilio's is known for Martini Monday, and is a chill spot (on Mondays).  The Bottle Cap has the Groove Lounge, and Techno Tuesday is where you'll find all of the smokin' hot eastern European chicks living in town, dressed up like runway models.  If you're a single dude, get your ass there, and bring your "A" game! ;-)
Other then that, play it by ear.  Remember, it's not a big downtown area, and if you find yourself on the other side of the island (called New Town), your basically screwed.  Be sure to check out my Key West Bars and Key West Bands for more info.
And please, always, ALWAYS, ALWAYS leave a comment, good or bad, with me.  How else am I gonna know if I'm wrong about something, or if things have changed?  Hit me up on Facebook, Twitter, or on my contact me page.
And remember to tell 'em, "Freshwater Dave sent us!"
Have fun--it ain't hard! 
---